With Riley headed off to college, I felt compelled to plan a last family hurrah. We thought about exotic locales or another European vacation but at the end of the day, we settled on Hawaii.
Settled is hardly the right word but I wanted to mix things up a bit so we exchanged our typical Big Island lounging for an urban experience on Oahu. There will be lounging for the second part of the trip but I panicked that my children haven't seen Pearl Harbor and that felt like a parenting fail with Riley exiting the nest.
The trip started off with my name being called as we waited to board the plane. At 8am in an obscenely crowded LAX terminal, I was in no mood.
Ken was a particularly perky United representative that wanted to confirm that I was in fact Kimberly. Since there was no official arresting police personnel visible, I confirmed.
Well now I got to spin some prize wheel! And 10,000 United miles are mine! Thank you very much, Ken!
I had to give Ken my email. Because it has "tx" in the address we started talking about Texas. Turns out Ken's husband graduated from UT a year after me from the school of Architecture. They haven't been back for a football game in a couple of years but are planning on it this season. Ken is now my BFF.
And here's the picture they made us take.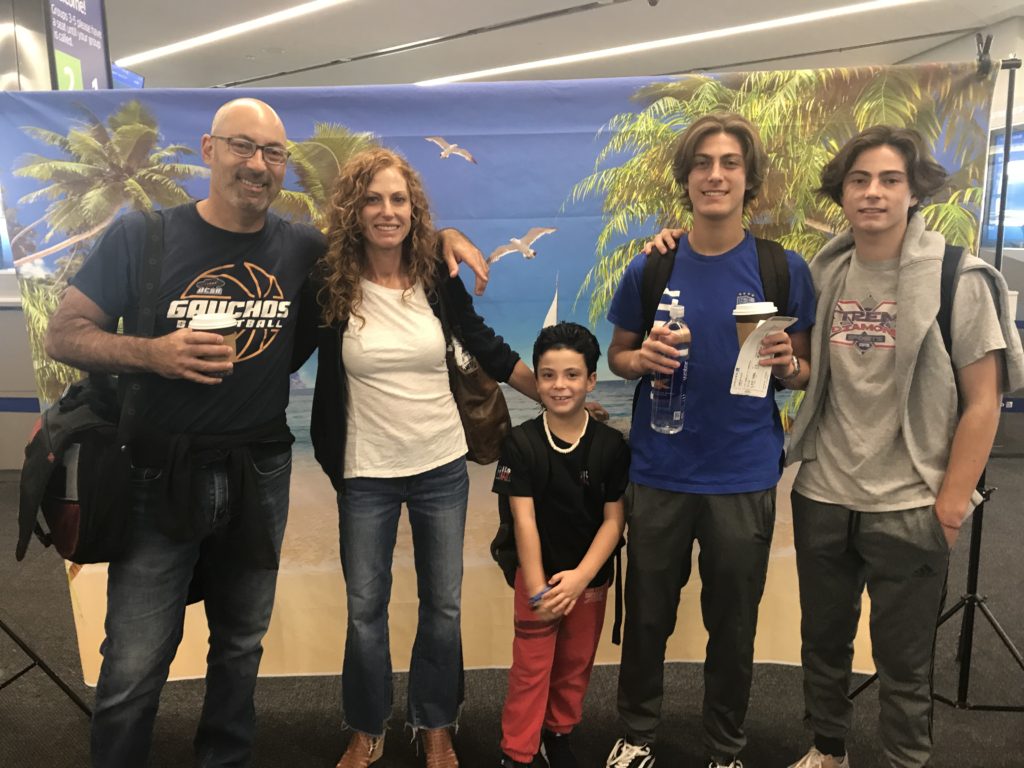 You can see how thrilled I am to be having my photo taken. I'll be mortified if we're on some United promotional site. I prostituted my likeness for 10,000 miles. It was worth it.
I used to be a very nervous flyer, even as a kid. My mom would often put me on a PSA flight alone to San Francisco to visit my grandparents. I had a whole OCD routine that involved carefully studying the emergency card and scanning the flight for infants. Because if there was a baby on board, it couldn't crash. I had a peaceful, carefree childhood.
I have completely rehabbed myself when it comes to my fear of flying and only had one morbid thought as I boarded the massive 777, "Will I be stuck at some sort of death check-in with all these uninteresting looking people?"
Thankfully we landed safely and checked into the uber fancy Ritz Carlton. (Thank you Marriot points). We are not beachside. It's sort of like Miami Beach meets New York meets Tokyo; a cultural experience for sure. We may also be subject to Yen exchange rates because lunch was $150.
Only one room was ready so while we were waiting all together, the day's travel took a toll on all of us, if you know what I'm saying.
In catering to the Asian clientele, our bathroom is outfitted with a state of the art Toto bidet toilet. I'm up first and fascinated by this amenity. The remote seemed detailed but self explanatory.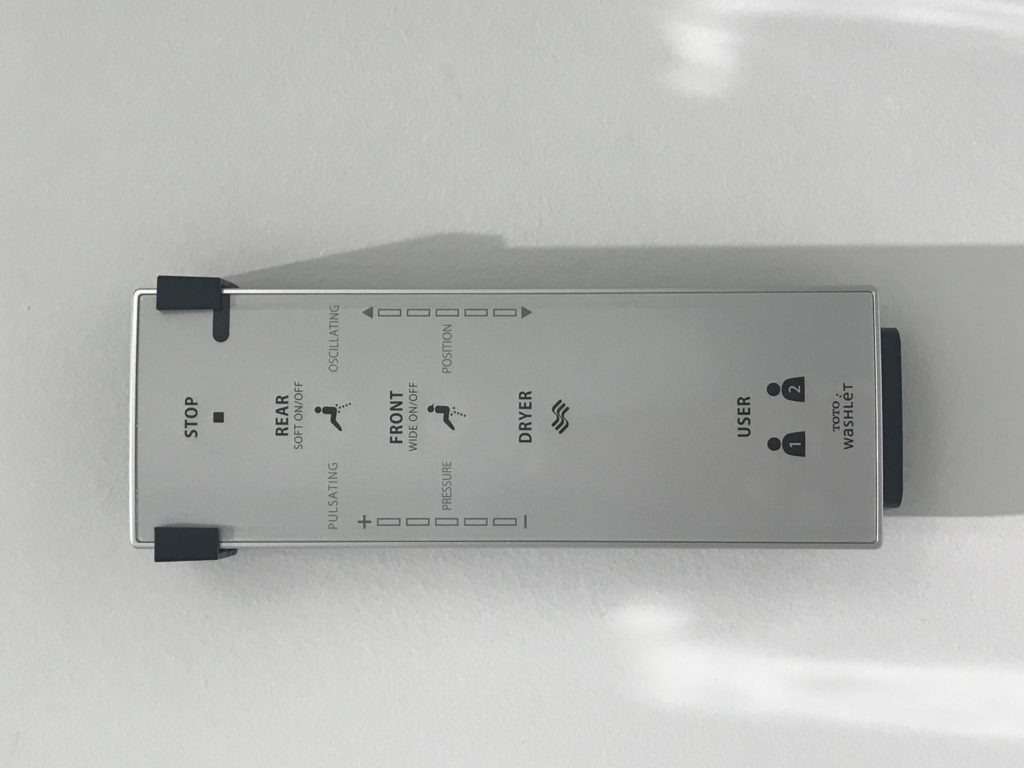 I activated the stream, heard the motor, but nothing. I figure I need to up the water pressure. 
As you know, I'm not a patient person. It never occurred to me that there may be a delay.
So now the water is going full blast and I'm pushing a button that says "on/off" but that must have been mis-translated from Japanese because it's not turning off. And I can't get up because the water will go everywhere all over the bathroom. So I'm laughing and screaming at the same time until I find a button on top labeled STOP.
Let's just say everything can be made better with a warm dryer feature.
Riley was up next. I think he summed it up best when he exited the restroom.
"I'm starting to question who won the war. I just let a Japanese toilet shoot water up my ass."
Signing off from Day 1.
Xo, Kimby