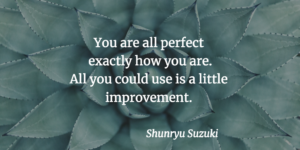 Is this cynical and cutting or forgiving and encouraging? Depends on if your inner voice is Joan  Rivers or Oprah.
I'm not one for Resolutions. They're kind of like Yom Kippur. Realistically, who has to apologize only once a year? I practically vomit Sorry daily.
So on this New Year's Day, instead of Resolutions bound to be broken, let's give each other a gift. One, two, three, we'll open it up at the same time. It's 365 days to improve on your perfection. A clean slate today. And if you fuck up, a fresh day again tomorrow and the next.
Wishing you your best year yet for your best you yet.
Shut up, Joan.