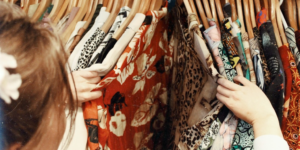 Dear American Retailers,
I will do anything to avoid walking into a mall. Truthfully, I will do anything to avoid leaving my house. So I do a lot of shopping online. To clarify, I do a lot of ordering online of items I know are absolute necessities because shopping is a waste of time and money.
This week I ordered khaki pants from Gap. One boy needed the same size. Apparently the gaping hole on his ass that he had scotch taped was "out of uniform". The other boy has grown and wanted a waist size one inch larger. Easy peasy.
The pants arrived and they are HUGE. Tell me how the same size of the same pant from a company like Gap could be off that much. I'll tell you how. Vanity sizing. It's got to be because orphaned Chinese peasant children can definitely measure.
Vanity sizing is bullshit. You are making my life a living hell. I order. I print return labels. I take packages to UPS. I wait on exchanges.
This isn't a one-off mistake either. As an example, I recently ordered a pair of pants that were a double zero and I had to return them because I was swimming in them.  A DOUBLE ZERO! I know that Martha in Missouri is thrilled that she fits in the 00, but I'm here to tell you, Martha, you still have a fat ass even if the slutty store I ordered from says you don't.
It's time to stop lying to the public. Any increase in sales you are seeing are offset by my returns costs.
xo, Moi