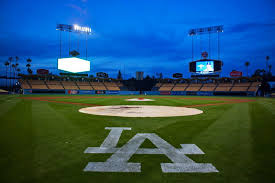 I do love baseball and I consider myself a Dodger fan but it's become increasingly difficult to root, root, root for the home team. Yes, the World Series was exciting last year and there were moments that I thought we'd pull it out. It was the most emotionally fulfilled I had felt by the boys in blue in a long time. But truth be told, I've felt abandoned since Time Warner refused to let Direct TV air the games. Not allowing us access to Vin Scully's last seasons was unconscionable.
Peanuts, Get Your Peanuts
At some point I must have signed up to receive emails from the Dodgers. As I cleaned out my Inbox this evening, I was drawn to an offer for tickets this weekend. Granted we are in 2nd to last place in the NL West playing the last place team in the division this Memorial Day Weekend, but what the hell. I thought a Sunday lunch of Dodger Dogs, beer and the crummy substitution for what used to be the delectable Carnation Chocolate Malt sounded delicious. The biggest boy is working, the middle guy is off to Magic Mountain, so a Sunday at the ballpark for the daddy, little guy and me sounded peaceful, nostalgic and comforting.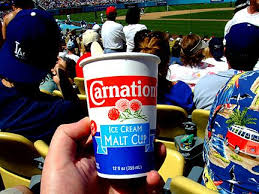 How Much?
[Insert sound of screeching brakes here]. $1,550. For three tickets. To watch a shitty team play a shittier team.
Now I realize that I left the little box that says "best tickets available" checked but I am now offended and praying for a sink hole to open up under Chavez Ravine. Maybe you could have sold those rights to Direct TV even if it was less than your original asking price to offset costs. These prices are usury! I could almost understand it if you were recouping the cost of a new state of the art stadium but Dodger Stadium is the third oldest stadium in MLB (IMHO, it's perfect). So how about cutting us a deal? How about making family fun family affordable?
Access Denied
Vin Scully called the very last NBC Game of the Week that aired October 9, 1989. At the close of the broadcast he had this to say: "It's a passing of a great American tradition. It is sad. I really and truly feel that. It will leave a vast window, to use a Washington word, where people will not get Major League Baseball and I think that's a tragedy."
Putting MLB out of reach of the masses is a tragedy. I think maybe I'm done. Too rich for my blood. I'm not Major League, I'm bush league and proud of it.
So, this is a former Dodger fan wishing you a pleasant good evening, wherever you are.