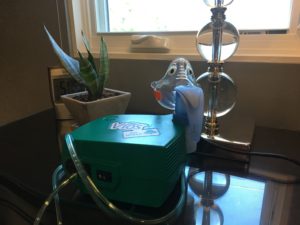 We're pretty loosey-goosey with curfews and rules for Riley. After all he's 17½ years old and will be off to college in about a year. He's proven himself trustworthy and for the most part, seems to be forthright about where he's going, with whom and what debauchery ensues. My only request is that he check-in when he gets home so that I may avoid waking up in a panic at 3am to make sure he's in bed.
So when he came into our room on Saturday night, I reflexively said hi, how was your night, I love you. He answered, "I'm sorry to wake you but I'm having an asthma attack and I can't make it stop."
I sprang up in full action mode, assessed how much medication he'd already taken, started the steam shower and grabbed the nebulizer. As we got him somewhat stabilized, Riley commented that he hadn't had an attack like that in more than a decade. He was right. So much for growing out of it.
A wave of anxiety welled up in me. What if this happens while he's away? I'll have to send him with a nebulizer and medication. I told him I hope he has an awesome roommate that will stay up with him until he can breathe. If not, he'll have to go to the hospital/urgent care/student health center. Whatever. Just please don't take a chance.
And then Dave broke the tension, "I feel like we should put on a Blues Clues or something." Indeed. How many nights had we been up with him at 4:30am distracting him with a VHS tape? Yes, our Blues Clues collection was on VHS.
I never upgraded the mask for our nebulizer. So our man-child sat upright in our bed with a fishy mask that barely covers his nose and mouth. Bittersweet to say the least.
Finally the steroid and albuterol fully nebulized. He was better with only a slight wheeze now. I asked him if he wanted to go back to sleep with us so I could, you know, monitor his breathing. HE SAID YES! I threw my arms around him and told him I'm terribly sorry he feels like he's suffocating but this is the happiest night of my life!
So I slept with one ear open and listened for changes in his breathing. Around 6:30am he announced he was going back to his room. I don't wish him any ill that would again require my comfort, but I did feel a pang as my baby left my bed, maybe for the last time. A parting gift from the universe.
Breathe.