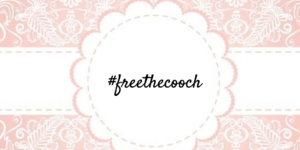 I cannot understand the need of some women to wear underwear to bed.
After a long day, you need to unwind. Do you think your vajayjay feels any differently? You've kept her cooped up in panties, confining jeans and workout clothes. Or maybe you have a real job and there could be synthetic fabrics imprisoning your lady bits. Nightime is the rightime. To let her breathe.
What is the purpose of the panties? Are you afraid something is going to crawl up there? Or worse, is something going to crawl out?
Men may wear boxers to bed. But those let the dudes dangle. You never see a man wear tighty whities to bed. If you do, dial 911 as you run. Try to save as many of the others as you can on your way out.
I get it if it's a little panty and baby doll action. But underpants, literally UNDER pants? To sleep? There may be times when a little belt and suspenders approach is necessary. But the other 28 days, let her exhale.
In this age of renewed exuberance for women and our innate power, may I suggest that this be the next cause we champion. I believe that some of you got the message when you were little that your VAGINA (since this is my feminist paragraph I'm going to stop belittling our genitalia with cutsey names) is dirty and it should be confined and hidden. (NOTE: if yours is dirty you can stop reading. And we can stop being friends.) It is not. It is a self-cleaning oven and you need to leave the door open so it can cool off.
I know some of you will brag that you don't ever wear underwear. I also know that you're postmenopausal and it's all Grapes of Wrath up in there.              (100 points to Gryffindor for any of you that get the reference)
If nothing else, you'll reduce your laundry load. I say #freethecooch!