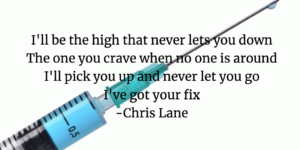 I am an addict. And I have hit rock bottom.
My addiction has made me sick, weakened me to a place where I can barely function. For so long I refused to address the true underlying cause of my illness, instead just managing the symptoms. Overmedicating for temporary relief but returning to my state of dysfunction because the high was so good, so tasty. I have few vices. I deserve this.
My addiction is wheat and sugar. I know you just laughed a little. You're used to me being funny so it's okay. But I'm not joking. Somehow, somewhere, my body went into hyper speed attack mode and the resulting imbalance has left me with almost debilitating sinusitis and asthma. I have no sense of smell, possibly a blessing with three sons. But also, no sweet scent memories of my last infant. I rarely sleep the night through without waking up sneezing and wheezing and coughing. I am constantly clearing my throat, blowing my nose and huffing on an inhaler. I spend my mornings with a hacking cough, clearing my lungs as if I am a carton-a-day smoker with pneumonia. I am in a state of chronic illness.
I have tried every internet potion, vitamin concoction and nasal inhalant and rinse. I have had sinus surgery. I have even swabbed my nose with Kimchi juice. Seriously. Because I read internet testimonials that promised a cure. Just to avoid giving up tuna melts on bagels, pasta with meat sauce, nightly ice cream sundaes, and yes, probably my elixir of goodness, bourbon.
I went about two weeks without the white stuff. Flour and sugar, come on. And there was marked improvement. I was sleeping a full 8 hours, waking up without black circles under my eyes. I was able to breathe through my nose and I no longer produced copious amount of mucous and phlegm. My sense of smell seemed to be lurking there somewhere but wasn't quite back. It was definite progress. So I started adding things back in.
Wait, I can't bullshit you. That sounds like I had half a piece of toast. I actually consumed 7 beignets covered in powdered sugar in one sitting, a hot dog, burgers, pizza, Coca-Cola, tons of pasta, heaping helpings of lasagna and several consecutive days of after-dinner sundaes (Trader Joe's Vanilla Ice Cream with Hershey's new 5 ingredient chocolate sauce. Trust me on this.) culminating with easily half a bottle of bourbon at an Oscar party, all over the course of a week.
And I am so sick. Again.
Here's the rub. I may have been a casual partaker of illicit substances at times in my life. I can take it or leave it. Even with my love of the all things brown and distilled, I can easily go weeks without having the desire to imbibe. But with savory carbohydrates and cold sweet icy desserts, I have no moderation switch. My inner voice says it's a reward I've earned. I don't do anything "bad" so I'm allowed this outlet. And my metabolism has condoned the excess. I don't mean to brag but it's all still the right size in the right place, no matter what I eat. Let's face it. I'm relatively vain so if my eating habits had made me fat, I would have certainly been more motivated to curb my piggyness.
But I am so tired of suffering and not recovering. I am not exaggerating when I tell you how truly miserable I feel. All the time. Imagine having your worst cold. For eight years. And not knowing if you would ever be healthy again. It's exhausting and depressing.
So I'm coming out to you to hold me accountable while I hop back on the wagon. Be my sponsor and feel free to comment with your own vices. I'm here for you. Also, I take tremendous pleasure in the suffering of others. Not really. Just don't leave me hanging out here alone in the Forest of Truth.